Cybersecurity Style Guide helps you write like a hacker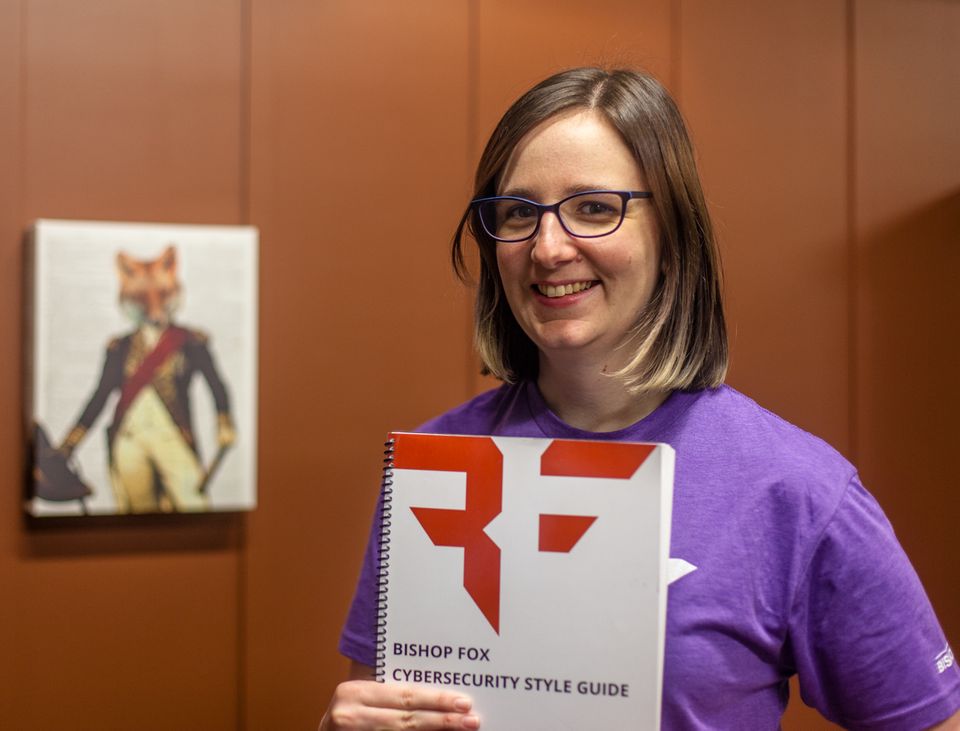 Unpickling, BeEF hooking, hamburger button, and sticky cookies may sound like the latest items on a hipster hangout menu to join $12 avocado toast, but they're actually all terms that appear in the first major style guide edited by linguists for hackers.
The Bishop Fox Cybersecurity Style Guide, published last week, was developed over the last year and a half to fill a vacuum, says its lead editor, Brianne Hughes. Although various individuals and organizations have published tech journalism style guides and hacker lexicons, nobody has publicly released a dedicated (and extensive) cybersecurity style guide until now, she says, adding that it'll help guide her editing of analyses and reports at cybersecurity consultancy Bishop Fox.
"We wanted to be consistent in the way we were changing words and reading terms," says Hughes, whose casual self-description as a "word person" understates her intense training and experience as a linguist. Hughes has a master's degree in linguistics from the University of York, England, and is on the publishing committee of the Dictionary Society of North America and the board of directors for online dictionary Wordnik.
"It's not just me arbitrarily deciding to do something," she says, recounting the challenges of deciding which terms would go into the first version of the style guide, and how best to define them. "My real goal was to bridge the gap between people who are writing in security, and the people who have to read that."
The Bishop Fox guide might just create an important marker in hacker culture too. As terms get defined in formal and popular dictionaries or guides, their meanings become more fixed and less open to interpretation.
To find an example of this, says Mike Scher, vice president and general counsel at network security company Nexum, look no further than how the style guide defines the common yet controversial computer security prefix "cyber-":
Industry professionals don't use this prefix, but it's helpful when informing the public, as in the title of this document. For many users, "cyber" on its own invokes cybersex, not hacking. https://willusingtheprefixcybermakemelooklikeanidiot.com. Related: cybersecurity.
Bishop Fox defines the "related" term, "cybersecurity," as such:
Defense contractors and government officials use this term or "infosec." Industry professionals do not prefer this term, but it is used for clarity with the public, as in the title of this document. We prefer the term information security.
Going back to the 1990s, "we saw lots of mockery of the word 'cyber,'" says Scher, who has a background in the sociolinguistics of the hacker community. But since it became the de facto indicator of computer-related issues to lawmakers, the term has become more legitimate, he says. And its inclusion in a style guide with broad appeal can both document and influence how the term is used.
"Hacker language is fast-moving, and not fixed," Scher says, "because you have so many subcommunities. There isn't even one big umbrella community."
Corporate style guides like Bishop Fox's often serve as important resources for researchers and journalists as niche terms migrate into general usage, says Jane Solomon, linguist-in-residence at Dictionary.com.
"Having terms in a style guide can be very powerful, and give readers permission to use them" elsewhere, says Solomon, who viewed an early version of the Bishop Fox style guide. "When I was working on definitions of "Deep Web" and "Dark Web," I had to do that research. Many journalists don't have the depth of knowledge to differentiate those terms."
That notion echoes research by the anthropologist Michael Silverstein, whose work has focused on the detailed practical analysis of the deep connections between culture and language. He presents evidence to support his argument that the two are inseparable, and that any line between them is arbitrary.
Although Hughes says she's not familiar with Silverstein's research, her style guide is an example of it in action. She says older style guides such as Wired magazine's style guide from 1999, and the Jargon File, which has been around in several forms since 1976, influenced her work on the Bishop Fox guide.
"They were horribly out of date but had some fantastic advice on writing about the Internet," which Hughes summarizes as: "Don't try to be an academic on a typewriter. You're in this new medium, so take advantage of it."
And because this medium is continually developing, so too will the ways we describe it, Solomon says.
"That's the ever-changing nature of language. A lot of these cybersecurity terminologies are going to be evolving over time. Some we're not going to care about in five years," she says. "'Information superhighway' is not really used anymore, but it was helpful in conveying what the tech did when it first sprung into existence."
Enjoying these posts? Subscribe for more