Cybersleuth Dan Kaminsky died while seeking medical answers
Dan Kaminsky "was studying the part of [Covid-19] that's the zero-day: the goddamn spike protein," a friend remembers. His doctor aunt describes his drive for "equity, advocacy, and innovation."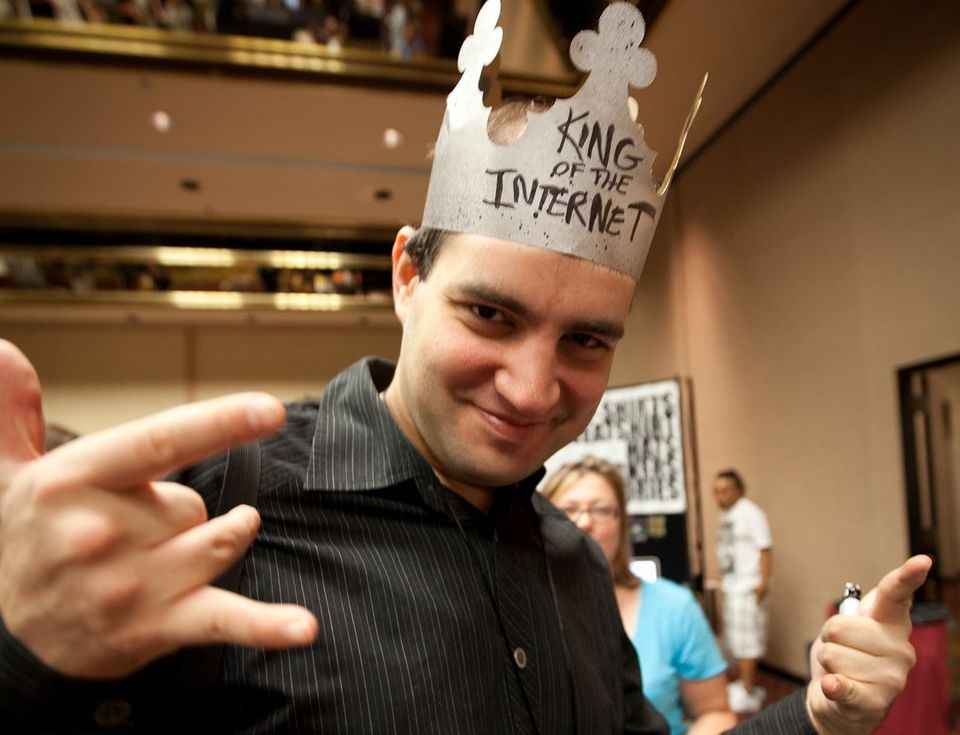 Thank you for subscribing to the reader-sponsored edition of the twice-weekly Parallax View newsletter. Our Friday edition is sent to premium subscribers only, but today we are remembering Dan Kaminsky, a hacker, biomedical researcher, and regular source for Parallax stories. Our photo of Dan comes from Pinguino Kolb, a longtime friend of Dan's and contributor to The Parallax View. Please share today's newsletter with friends, colleagues, and anyone who knew (or should have known) Dan.

Dan Kaminsky, a computer security researcher who changed the course of the Internet in 2008, and who spent his career vigorously advocating to make it more secure, died on April 23 at his home in San Francisco. He had spent much of the past year researching Covid-19 and its potential connection to a serious health condition with which he had been quietly struggling.
Kaminsky, who was 42, died of diabetic ketoacidosis, a condition in which the body responds to high blood sugar levels or low insulin levels by burning fat cells, a process that produces high levels of blood acids called ketones. It can cause extreme pain and can be extremely difficult to manage.
Kaminsky grew up in San Francisco, attended St. Ignatius High School, and then earned his bachelor's degree in business computing from Santa Clara University (with a break for an internship at Cisco Systems). After first discovering security holes in government websites when he was 11 years old, his aunt Dr. Toby Maurer told The Parallax, he became a professional Internet security researcher in the early 2000s.
In 2005, Kaminsky discovered and raised awareness about an apparent effort of music publisher Sony BMG to combat music piracy. The rootkit scheme involved surreptitiously infecting customer computers connected to at least half a million networks, including military and other government networks.
In 2008, he discovered and helped fix a critical flaw in the Domain Name System, essentially an Internet address book for websites. The vulnerability enabled malicious hackers to redirect unsuspecting targets to different websites or domains than to their intended destinations.
He went on to co-found the cybersecurity company White Ops, since renamed Human, where he served as chief scientist.
Kaminsky has been involved in nearly every aspect of Internet security. His research and curiosity led him to crusade against clickjacking; to advocate for significantly more government investment in cybersecurity; to block Internet ad fraud; to improve cybersecurity on hardware; and even to analyze cryptocurrency security.
Video playlists of Kaminsky's talks at hacker conferences DefCon and Chaos Communication Congress cover more of his research, including his deep interest in health care technology.
He created the DanKam mobile app in 2010 to help a friend with colorblindness. It uses a smartphone's camera and augmented reality to help the colorblind detect colors otherwise unavailable to them. The New York Times reported that Kaminsky had worked on hearing-aid technology to help his grandmother. Separately, he worked with his aunt to build and improve telehealth tools for the National Institutes of Health, and with the university consortium Ampath to better aid doctors and patients in Africa.
"Dan was a computer virus expert researching cellular viruses, trying his best to do something about the Covid pandemic... He was studying the part of the virus that's the zero-day: the goddamn spike protein." —Cosmo Mielke
Dr. Maurer, a professor of dermatology at the University of California at San Francisco and University of Indiana medical schools, says she has been using teledermatology to help under-resourced patients in Africa, especially those suffering from Kaposi's sarcoma, for the past 12 years.
"Dan found out that there was a 40 percent death rate. And he wanted to get out there and fix that. He has been helping me, in the larger world of image capture, [figure out] how to enhance that and translate that into machine learning. He had novel ideas on how to take machine learning to a different space, of how to train the neural network," she says.
Kaminsky's work is now influencing grant requests and research with the National Library of Medicine, his aunt adds. "It was a huge part of what he wanted to do over the next few years."
Kaminsky was active in researching solutions to the Covid-19 pandemic long before the vaccines were ready for patients. He was an early participant in cybersecurity and biology expert Cosmo Mielke's Quarantine@Home drug-docking project, which used participants' idle home computer cycles to try to match known drug molecules to Covid-19's spike protein.

In 2020, Kaminsky helped Mielke secure resources from Amazon.com, and personally ran computers to help Quarantine@Home with computer processing. He contributed more than 107,000 drug-docking tests to the project. (Quarantine@Home was similar to Folding@Home, in that both leverage participants' computers to aid in medical research, though the latter was different in that it focused on protein folding.)
"Dan was a computer virus expert researching cellular viruses, trying his best to do something about the Covid pandemic," Mielke says. "He was studying the part of the virus that's the zero-day: the goddamn spike protein."
Mielke and Kaminsky became friends in 2014, after Kaminsky reached out to Mielke to ask questions about his research on muscular resistance to insulin—and how it can impact diabetic ketoacidosis.
"One of my regrets is, I didn't offer to sequence his genome, and offer to find out how to help him. We did all these projects together in security and biology, but not about his health," Mielke says.
Kaminsky was collaborating with Harvard University researchers on Covid-19 treatments that would enhance the elasticity of the lungs with Oscillatory Positive Expiratory Pressure (OPEP) machines. He also spent time researching ketones and what connection, if any, they have to Covid-19.
If his research helped him understand his own medical condition, Kaminsky appears to have kept that to himself.
"How to lead with care, protect patients' rights, and do it with equity. That was Daniel to a T." —Dr. Toby Maurer, Dan Kaminsky's aunt
In a newsletter detailing his pandemic-era experiences with Kaminsky, machine-learning and statistics consultant Gustavo Lacerda said Kaminsky "hated" high-school chemistry yet spent the first half of 2020 teaching himself computational biochemistry. He explained to Lacerda how he was researching what happens to electrostatic signatures when acidity levels change.
"I should see how the strains of Covid compare to each other. Proteins and their aggregates are all basically steam engines powered by magnetically guided hydrogen flow," Kaminsky wrote. "It's crazy, protonic computing."
Dr. Maurer says she hopes to continue her nephew's work with other cybersecurity researchers. "Driven by equity, advocacy, and innovation," she says, Kaminsky wanted to get the complex network of electronic health record systems to better communicate with one another and with apps while protecting patient privacy.
"Interoperability was Dan's desire, and how to do that securely, but with an emphasis on patient's rights," she says. "It's not just about making a gazillion bucks at a startup. It's about how to humanize these efforts in technology, and bring them to the patient."
"We've got the technology, it's just not very organized," Dr. Maurer says. "How to lead with care, protect patients' rights, and do it with equity. That was Daniel to a T."
Correction on May 3 at 1:40 p.m. PDT to clarify how diabetic ketoacidosis affects the body.
---
The Parallax View is edited by Zoë Slocum.
---
Please email your questions or comments about today's newsletter to seth@the-parallax.com
Enjoying these posts? Subscribe for more