How to dump your Yahoo, Flickr, and Tumblr accounts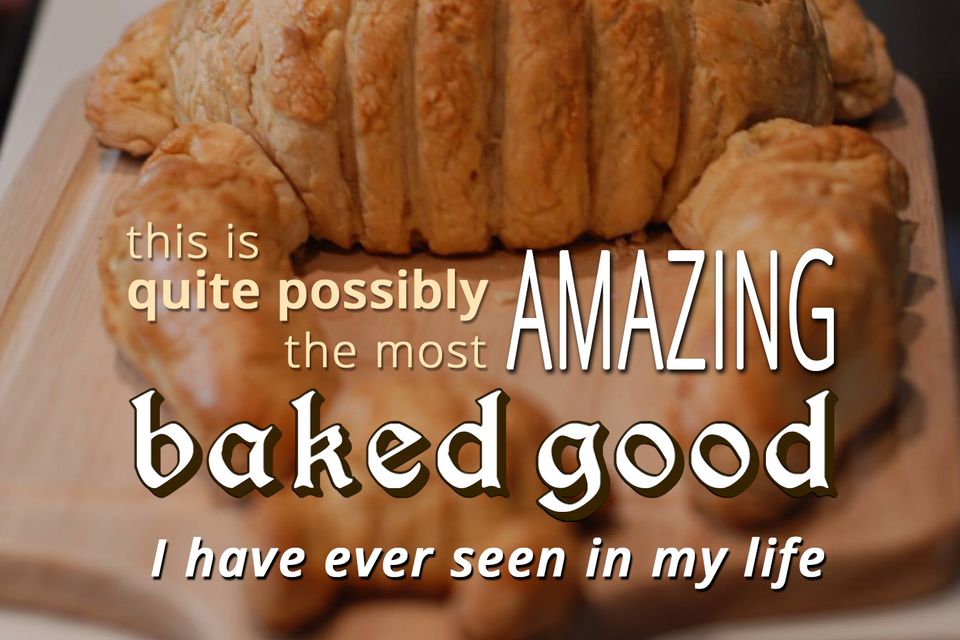 Within hours of the revelation last week that Yahoo had helped the U.S. Department of Justice search user accounts, computer security expert Dan Tentler announced that he was closing his Yahoo, Flickr, and Tumblr accounts. In doing so, he deleted the public record of how he met his wife, Sally Crossthwaite.
In 2007, Tentler baked a doughy homage to the character HeadCrab from the video game Half-Life, then posted a picture of it on photo-sharing site Flickr, a subsidiary of Yahoo since 2005. Crossthwaite later saw the photo and commented on it: "This is quite possibly the most amazing baked good I have ever seen in my life," Tentler recalls her writing.
The online comment kicked off an offline relationship. They married in 2011.
After backing up more than 25,000 photos dating back to 2003 from Flickr last week, Tentler, who founded the computer security testing company Phobos Group, deleted them and all his Yahoo accounts. And with his Flickr account gone, so too was the comment thread that led to his marriage.
"It wasn't until a couple of hours later I realized it was gone. I should've taken a screenshot," he says. "It's a real shame that I had to erase the public record of major events in my life because people at Yahoo either don't know that the Constitution exists, or are OK with the government conducting illegal, Fourth Amendment-violating searches on 500 million accounts."
Yahoo declined multiple attempts to seek comment for this article.
"I just can't trust Yahoo with my data anymore." — John Adams, director of security, Bolt
While it's not clear at this time how many user accounts Yahoo searched for a "set of characters" that the company claims the U.S. Department of Justice said would indicate terrorist use, Yahoo's actions have upset security and privacy experts to the point where they feel that they must publicly decry the company's actions—and subsequently close their accounts.
Closing down a Yahoo account is no trivial matter, especially if, like Tentler, you have used it to facilitate much of your digital life for a decade or longer.
John Adams, the director of security at electronic payments company Bolt, for example, also cultivates a side career as a photographer. After shuttering all his Yahoo services, including Flickr, he is facing professional challenges.
---
---
READ MORE ON YAHOO
Opinion: Massive Yahoo breach highlights why to hit 'delete'
'Yahoo is not safe to use,' former company engineer says
How to recover from a Tumblr hack
Why Yahoo should have fought the NSA like Apple fought the FBI
---
"Flickr was the way I communicated with models and showed them private sets," he says. "But I just can't trust Yahoo with my data anymore."
As in past revelations of mass surveillance and data breaches, Yahoo is not expected to face a mass exodus of users, says Avivah Litan, vice president and analyst at Gartner Research. She expects a maximum of 1 percent of its users to vacate.
"History shows these breaches, however serious they are, are a blip on the radar screen," she says. "They quickly come and quickly go, with almost no impact on stock value or bottom lines."
Although Litan says it's "very hard to prove any direct harm to consumers," security experts like Tentler and Adams aren't taking any more chances on Yahoo.
"The company may be complicit in mass surveillance," Adams says, adding that the account scanning its executives authorized "created vulnerabilities that [its] security team later identified. How can they be trusted anymore?"
Here's how to back up, migrate away from, and eventually close down your major Yahoo services.
How to back up and migrate your Yahoo Mail account
The easiest way to leave Yahoo Mail is to migrate to a Gmail account. Granted, there's no guarantee that Google isn't doing the same kinds of things that have angered security experts, but at least for now, the company denies that it is.
A Google representative told The Parallax, "We've never received such a request, but if we did, our response would be simple: 'No way.'"
Gmail's import tool brings in only mail from the Yahoo Mail inbox. So if you have email in multiple folders, move them all to your Yahoo Mail inbox before beginning the transfer.
If you already have a Gmail account, skip to Step 2.
Step 1: Go to gmail.com, and follow the instructions to create a new account. Be sure to set up two-factor authentication for added security.
Step 2: Log in to your Gmail account, click the gear icon in the upper-right corner, and click on Settings.
Step 3: Go to the Accounts and Import tab, and click on Import Mail and Contacts.
Step 4: Type in your Yahoo email address, and click Continue. Follow the instructions to sign in to your Yahoo account.
Step 5: Choose to import Contacts, Mail, and new mail, if you want to forward the next 30 days of Yahoo to your Google account.
How to back up and migrate your Flickr account
While backing up and migrating Yahoo Mail is fairly simple, there's no easy way to do the same for Flickr, which attracted many fans for its global photo-sharing community, free 1 terabyte of storage, and $50-per-year unlimited photo storage.
One option is to migrate from Flickr to Google+. The social service doesn't have as robust a community of professional and amateur photographers as Flickr's, but it does offer photo viewing and sharing in a similar manner. One professional photographer who didn't give permission to be named says she can't leave Flickr because new clients often discover her work through the varying degrees of Creative Commons usage rights she assigns to her photos.
Adams cautions that Flickr alternatives such as Google+, SmugMug, and Zenfolio all come with certain constraints. Violating SmugMug's very strict rules about photographic content, for example, can lead to account deletion. More importantly, Adams says, "None of them replicate the community of Flickr."
Google+ doesn't support placing the same photo in multiple albums the way that Flickr does. And although your initial photo import won't count against your storage limit, if you're a heavy Flickr user like Tentler and Adams, you'll almost certainly need to buy more storage from Google.
Nevertheless, Google+ will make a good stopgap measure, especially if you've already migrated your email from Yahoo Mail to Gmail. One tool for migrating from Flickr to Google+ is the website Flickr to Plus. It will migrate your images, along with photo titles, descriptions, tags, commenting permissions, upload time stamps, and geographic locations, but not comments.
To use the Flickr to Plus migration tool, go to the site. Follow the instructions for logging in to  Flickr, then Picasa, the photo management system Google bought in 2004 that now powers Google+ Photos. You can use your Google account credentials for this. Then choose the Flickr sets you'd like to migrate to Google+.
If you just want to back up your photos from Flickr to your computer, Tentler and Adams recommend using free software called Bulkr. It will download your original photos and videos, as well as the associated photo tags, descriptions, and titles. A $29 version that includes unlimited upgrades allows up to five people use it.
How to back up and migrate your Tumblr account
Moving your Tumblr account has similar drawbacks to moving your Flickr account, says Tentler, who runs Teachmehowtohack.tumblr.com, particularly with respect to community.
There are numerous other blogging communities online, but Tumblr doesn't make exporting easy. You can export to WordPress, and either keep it there or export it from WordPress to Blogger or another platform.
To migrate from Tumblr to WordPress, first create an account and blog at wordpress.com, if you don't have one.
Step 1: Go to the Tumblr Application Page, and click Register Application. Fill in the fields: Application Name should be a unique name like YourName Blog Export; Application Website, the WordPress URL for your new site; Application Description, a short description of the blog; Administrative contact email, which should automatically fill itself in; and Default Callback URL, which is also your new WordPress URL. Once you've filled everything in, check the "I am not a robot" box, and click Register Application. Keep this tab open.
Step 2: Log in to WordPress in a new tab. Go to Tools, then Import, and choose Tumblr. Click Install Now, then Activate Plugin and Run Importer.
Step 3: WordPress will ask for your OAuth key, and secret key. These will be in the tab you left open in Step 1. Copy and paste them into your WordPress tab, then click Connect to Tumblr.
Step 4: Click the the Authorize the Application button, then the Allow button.
Step 5: A screen will appear with your blog details and a button labeled Import this blog. Click it to finish importing your Tumblr blog to WordPress.
How to delete your Yahoo account
Once you've backed up all your data, and migrated what you want to keep available in the cloud, it's time to delete your Yahoo account.
Step 1: Go to the Terminating your Yahoo account site. If you log in to Yahoo using a phone number, you'll have to use this page instead.
Step 2: Confirm your password.
Step 3: Click Terminate this account. Yahoo warns that the account data is unrecoverable, once you take this step.
Future privacy solutions?
Protests by security professionals aren't likely to have much of an impact on tech titans or the general public yet, Tentler concedes. He's hopeful that a company someday will invest in a "privacy-conscious Flickr" and says he'd be willing to pay for it.
But for now, he says, people who expect cloud services to protect their users' privacy against what he calls "broad government intrusion" should reconsider their expectations.
"All we can do is watch the apartment complex that was Yahoo burn. Part of my life is gone forever."
Enjoying these posts? Subscribe for more