EpiPencil hack costs a fraction of EpiPen (exclusive)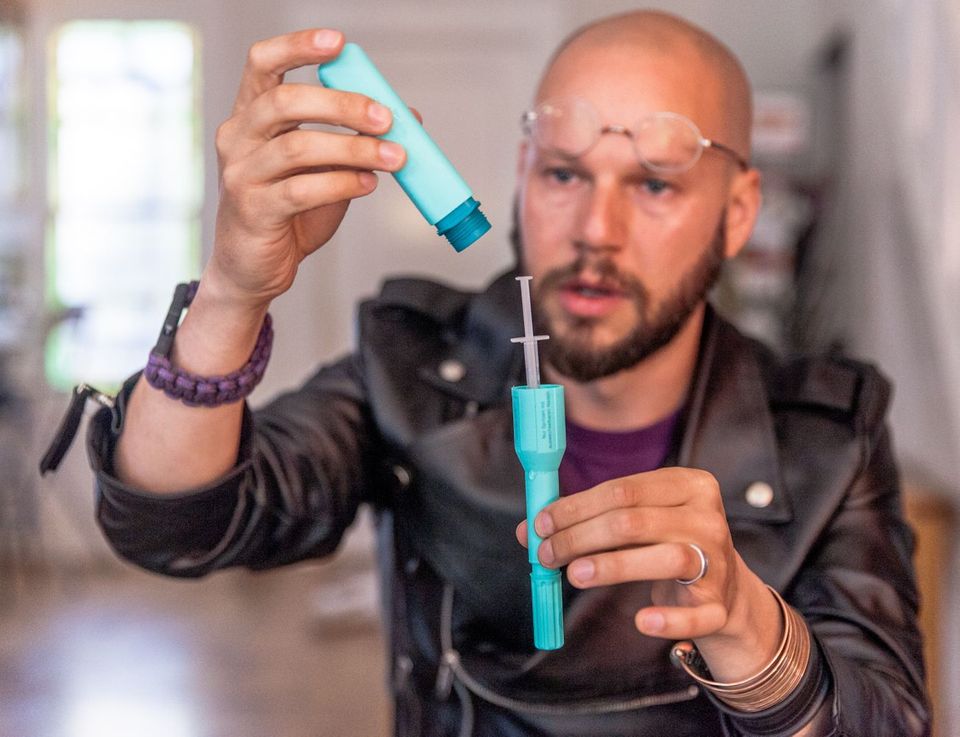 SAN FRANCISCO—Pharmaceutical company Mylan made headlines at the end of August for increasing the price of an EpiPen two-pack beyond $600. In response, the same hacker who wants to help people homebrew their medication has figured out a way to make an alternative he calls the EpiPencil for about $35.
Michael Laufer, who holds a Ph.D. in mathematics from City University of New York and is not a medical doctor, has combined an off-the-shelf needle injector designed for diabetics with a syringe loaded with the correct dose of epinephrine, the life-saving hormone in EpiPens. Laufer demonstrated the EpiPencil for me last week. It took him fewer than three minutes to load the syringe, assemble the auto-injector, and inject himself with a harmless 0.3-milliliter dose of saline.
A sudden dose of epinephrine injected either intramuscularly or subcutaneously can save the life of someone who is going into anaphylactic shock, says Dr. Russell Leong, a San Francisco allergist. A preloaded EpiPen—a needle and syringe that comes "predosed" with epinephrine, encased in a plastic tube fitted with a spring and a release button—is a "no-brainer," he says, which is why many parents, schools, and outdoor athletes insist on carrying them at all times. EpiPen injections are designed to quickly counteract an allergic reaction by delivering epinephrine through a muscle of the recipient.
But the recent price hikes have made keeping EpiPens on hand challenging for some people. Mylan, which acquired the rights to the EpiPen in 2007, has raised the price 15 times since 2009, taking the two-pack cost from about $116 to $608.61 in July. EpiPen coupons can significantly lower the cost for people with private insurance, or even make them free, but they aren't available to people with Medicare.
The sharp price increase of the EpiPen, which has an estimated production cost of $30 per pen, has many concerned, including Laufer.
"You know there are people who are just not buying an EpiPen because they can't afford it," Laufer says. "That's unconscionable."
Mylan, which has asserted that the price of the EpiPen is not solely up to its maker, did not return multiple requests for comment. CEO Heather Bresch, who has stated that "nobody's more frustrated than me" about the price increases, is expected to testify before Congress on the matter later this week. During the period in which the price of the EpiPen sextupled at retail, Bresch's salary increased from $2.45 million to $18.9 million, according to SEC filings.
Laufer's EpiPencil is his second attempt to challenge accepted paradigms and costs of medicine delivery by his biohacking group, Four Thieves Vinegar. His first, the Apothecary MicroLab, which he made public last month, is a system that allows its users to make their own medication.
People need to assemble the EpiPencil at home, and buy the auto-injector, syringes, needles, and epinephrine separately. Laufer's site provides links to each of the components, except epinephrine, which requires a doctor's prescription. People then load the syringe with the correct dose of epinephrine—it's different for adults, children, and babies—and screw together the auto-injector.
"You know there are people who are just not buying an EpiPen because they can't afford it. That's unconscionable." — Michael Laufer
A safety on Laufer's recommended auto-injector, the AutoJect 2 ($27.99 at ADWDiabetes.com, $34.45 at Amazon) prevents accidental discharge of the epinephrine, while a screw-top cap protects the needle from contamination. A 1mL vial of epinephrine costs about $2.50, though a shortage of the hormone could lead to price increases, Leong says. Doses range from 0.01mL for babies, to 0.1mL for children, to 0.3mL for adults.
While Laufer estimates that people following his instructions would pay about $35 to fully assemble each EpiPencil, he acknowledges that prices of each component (not to mention shipping costs) are likely to fluctuate and differ between distributors.
The EpiPencil requires the user to measure the correct dose before administering it. An overdose can cause edema, heart palpitation, or possibly even death, says Dr. Schuman Tam, also a San Francisco-based allergist.
"If you don't draw up the epinephrine carefully" into the syringe, "there will be a problem with contamination," he says. Drs. Tam and Leong warned that the risks of an epinephrine overdose could be "catastrophic."
Food and Drug Administration spokeswoman Theresa Eisenman recommended against using a homebrew EpiPen alternative.
"It's essential to remember that epinephrine auto-injectors are life-saving products, and it is critical that they are made to a high standard of quality so patients can rely on them to work safely and effectively," she said in a statement. "Neither [the] FDA nor the American public have any assurance that unapproved products are effective, safe, or produced under Current Good Manufacturing Practices" of the FDA.
Eisenman pointed to a list of FDA-approved EpiPen alternatives made by Amedra Pharmaceuticals and Kaleo. Retail prices for alternatives can be comparable to the EpiPen, but coupons and insurance can reduce them by hundreds of dollars.
Mark A. Lemley, director of the Stanford University Program in Law, Science, and Technology, says the fact that Laufer is only providing information—not actually selling or distributing components—may keep him out of the FDA's jurisdiction.
"While patients who build their own devices aren't subject to the jurisdiction of the FDA, it has been very aggressive in going after even companies [that] just provide information, using any hook they can find," Lemley says. "They shut down [genetic testing disclosures by] 23andMe by claiming that a plastic tube you spit into to send your DNA was a 'medical device,' for instance."
The EpiPencil could present an attractive alternative for people who don't have access to insurance or coupons that significantly reduce the price of the EpiPen.
One family, Melissa and Jake Westlie of El Sobrante, Calif., keep EpiPens around because their 4-year-old has a severe allergies to peanuts and eggs.
"We've been really fortunate to pay $100 per EpiPen [two-pack because of health insurance copays], but we need several: in the car, at the grandparents' house, at school, and at home," Melissa Westlie says.
"I know some people will keep them for a bit longer, just because they [feel] like the expiration date isn't the point at which the medication goes bad," she says. Doctors recommend replacing EpiPens once a year. "For families and people with allergies, $600 is crazy."
Enjoying these posts? Subscribe for more