How to clean up (or delete) data brokers' profiles of you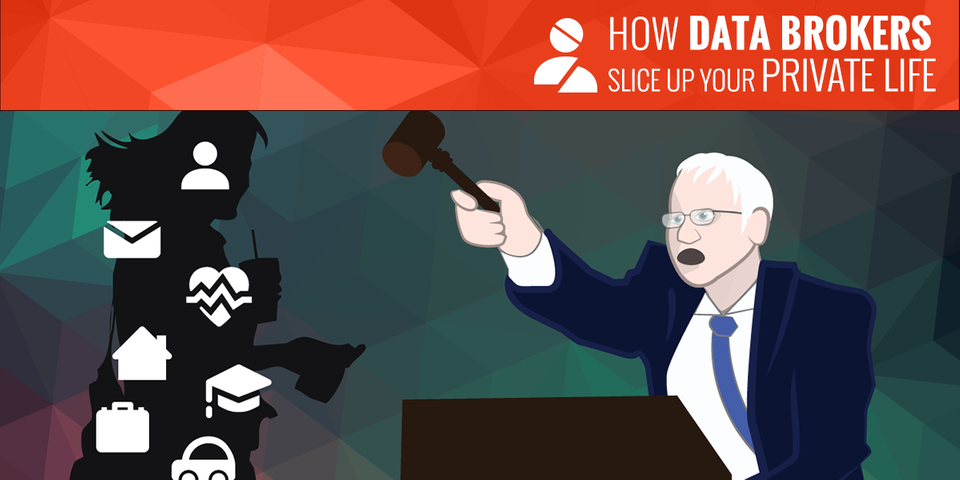 Ask data brokers why your information is important to them, and they'll tell you that it helps their partners provide you with more personalized services.
As consumers, "We no longer want to receive mass marketing—getting bombarded with ads that have no relevancy to our lives—because it's intrusive and wastes our time," Acxiom, one of the world's largest data brokers, says in a primer about its industry.
But ask privacy experts, and they'll say data brokers' widespread trading of consumer data enables those partners to also raise interest rates and health care premiums, or exclude certain customers from their most attractive offers. It can also lead to consumers being "unable to complete important transactions, such as opening a bank or mobile-phone account," the Federal Trade Commission said in a 2014 research paper about the industry.
The personal information data brokers collect and sell isn't always accurate, either. It often stems from inferences, according to the FTC paper. People who have deep pockets but live in economically struggling neighborhoods, for example, might be placed on data broker lists associated with poor financial status.
Consumers can take steps to protect themselves from such miscategorization, says Gautam Hans, policy council at the Center for Democracy & Technology. This includes, when possible, editing incorrect information.
"It's important for you to look at your own profiles to see if there are any inaccuracies—the same way you would with a credit report," Hans says. "Correcting wrong information with data brokers is just as important as correcting credit inaccuracies."
Some commercial data brokers allow consumers to edit information. Others let you opt out of certain uses and disclosures of your personal information, according to the nonprofit World Privacy Forum. Opting out can result in receiving fewer marketing messages—or different types of ads—in your mailbox or online.
"I like to think that we can still retain our autonomy, and part of that is being aware that everything we buy—and our actions in the digital world—are all tracked in some way," says Pam Dixon, executive director at the WPF. "I wouldn't say that opting out is something to obsess over, but it's certainly something that consumers should be aware that they can do."
Here's how to remove yourself from (or at least verify and clean up information about you on) lists related to 10 major data brokers.
Acxiom
Acxiom says opting out its digital-advertising products will prompt it to stop collecting and sharing digital-advertising data about you with its clients. Because its opt-out tool is cookie-based, you'll need to set your browser to accept third-party cookies when using it. Opt out here.
Datalogix
Datalogix says opting out of its cookie-based online advertising creates an "ignore flag" for you. Although the company says you can opt out of all advertising enabled by its products, its link to do so doesn't function, and it did not respond to requests for clarification.
Direct Marketing Association
DMAchoice.org lets consumers manage DMA-associated marketing messages sent to your household. Opting out of receiving certain types of mail requires creating an account.
eBureau
To remove yourself from eBureau's lists to marketers, you need to open an account and verify your personal information. Removal of your personal data from eBureau's databases may take up to five business days, it says. Create an account to opt out here.
Epsilon Data Management
Epsilon offers consumers a number of opt-outs, including from company-enabled email advertising. For more information and links to specific opt-outs, visit its Consumer Preference Center.
Experian
If you opt out of Experian's databases, you'll stop getting most catalogs, prepared bank and retail credit solicitations, and other invitation-only offers in the mail, the company says. For more information on opting out of specific types of targeted advertising, visit its Privacy Page.
Intellius
The Intellius database includes information from public records, as well as publicly and commercially available information. Its opt-out page requires you to upload a photo of your driver's license, with your picture and license number removed. Alternatively, you can attach a notarized letter that confirms your identity.
LexisNexis
LexisNexis says it removes from its databases only individuals who can prove that they are either public or elected officials, including law enforcement; or private individuals who can prove that they face substantial risk of physical harm or who are victims of identity theft. Its Privacy Page includes more details on how to submit a request to opt out.
PeopleFinder
Opting out of PeopleFinder's database will block your records from appearing in search results on its website, it says. You can opt out here.
Spokeo
Because Spokeo aggregates publicly available information from third-party sources, removing your listing from its site will not remove your information from its original source. To remove a listing from Spokeo, visit its opt-out page.
ZoomInfo
To remove your information from ZoomInfo, start by visiting its email lookup page. If your email address is listed in its database, you will receive instructions for opting out. The email address you provide will be used only to deliver this one-time message, the company says.
Enjoying these posts? Subscribe for more