Organizing a protest? Consider using encrypted apps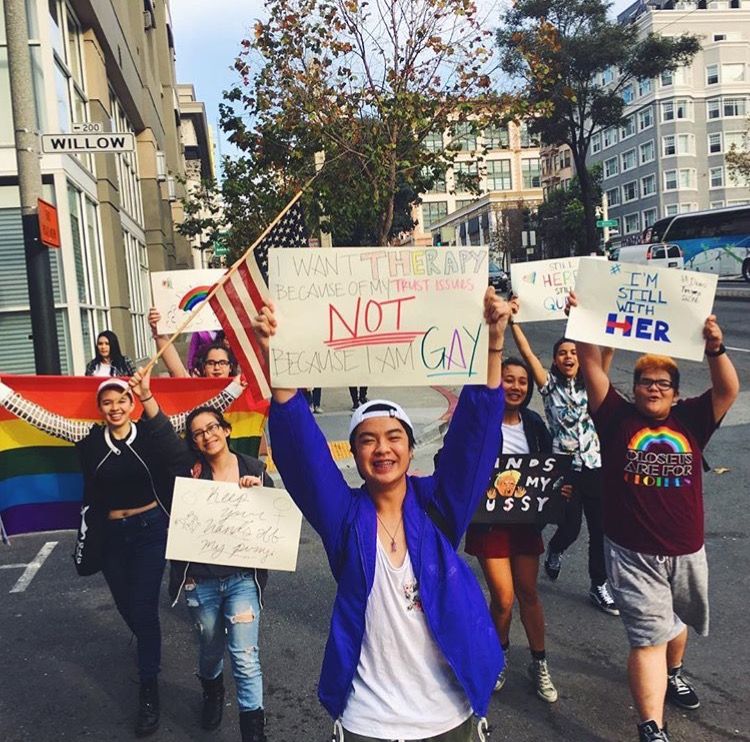 Alex Rosenthal, a 17-year-old junior at George Washington High School in San Francisco's Richmond District, describes herself as many things. President of her school's debate team. Asian-American. Gay.
Co-organizer of a protest that shut down major city streets wasn't something she expected to add to that list—not, at least, until Donald Trump was elected president of the United States.
Last Wednesday, as Hillary Clinton gave her concession speech, Rosenthal and seven of her friends began talking about organizing a school walk-out. "Waking up as a gay Asian woman," she says, and "realizing that the country you live in doesn't care about you," is "terrifying and sad…If we don't do anything, we are bystanders of oppression."
Using Snapchat and Instagram, Rosenthal connected with high-school students at Galileo High School and then throughout San Francisco to coordinate a protest march. Eventually, an estimated 2,000 students from eight schools marched at City Hall, including around 250 from Washington High.
The San Francisco Unified School District did not return multiple requests for comment.
As Rosenthal used the public-posting features of Snapchat and Instagram, which lack end-to-end encryption, to organize the protest, she says she was considering the country's future above her own.
"Everyone was concerned that they were going to get in trouble and get suspended, but for something of this caliber, you have to make sacrifices," Rosenthal says.
"For ordinary political activity, I don't think it matters that much if you encrypt your communications," says Eugene Volokh, a law professor at the University of California Los Angeles. "A Trump administration is no less interested in your communications than the Obama administration was, or a Clinton administration would be."
But First Amendment protection of protests and other forms of speech hasn't stopped employers or schools, respectively, from attempting to regulate those of their employees or students, Volokh acknowledges. And the Internet is rife with stories of social-media posts unexpectedly coming back to bite their authors.
"There's certainly a formidable argument for encrypting," he says. Much depends on who you are, and how concerned you should be about getting arrested, fired, or otherwise punished.
"If you're a journalist, you may want to encrypt conversations with confidential sources," Volokh says, referring to journalists' conventional vow to protect their sources. "It's not wrong for the government to subpoena those sources, but I can understand why a journalist would want to keep that confidential."
Facebook recently added an end-to-end encryption option called Secret Conversations as an option in its Messenger app on Android and iPhone. The Parallax guide to encrypted apps outlines other encrypted-communications options, including Signal, WhatsApp, and Wickr. All of them carry metadata, which has its own risks. "Metadata about your phone calls can give away some very intimate and sensitive information," cautions the Electronic Frontier Foundation, a group advocating for online privacy rights.
"For me, personally, if a college doesn't want me acting for my rights and speaking for my views, I don't want to go there."—Alex Rosenthal, student, George Washington High School, San Francisco
EFF technologist Bill Budington cautions against using apps like Instagram and Snapchat for sensitive communications. "Snapchat keeps data, even though it disappears from the obvious interface. And Instagram obviously stays around much longer," he says.
To people who want to improve the privacy of their electronic conversations, Budington advises using popular apps with end-to-end encryption.
"Here in the U.S., we don't have a situation like some despotic regimes have, where using a specific platform makes you a suspect," he says. "Using WhatsApp over Signal, because it has a broader user base" will help you in such countries, he says, because it won't necessarily be flagged for its encryption implementation. But if you can use Signal with impunity, Budington and the EFF recommend it.
WhatsApp currently has more than 1 billion users, and Signal use began growing rapidly when email leaks became part of the election campaign.
While the recent explosion in encrypted apps and their use predates the general election, Rosenthal says she and her co-organizers didn't consider using them in part because the protest came together so quickly. But she says she isn't worried about what colleges think of her protest organizing, either.
"For me, personally, if a college doesn't want me acting for my rights and speaking for my views, I don't want to go there," she says. "I'm not here for Hitler's youth; I'm here for America."
Enjoying these posts? Subscribe for more