5 ways to prepare your kid for social media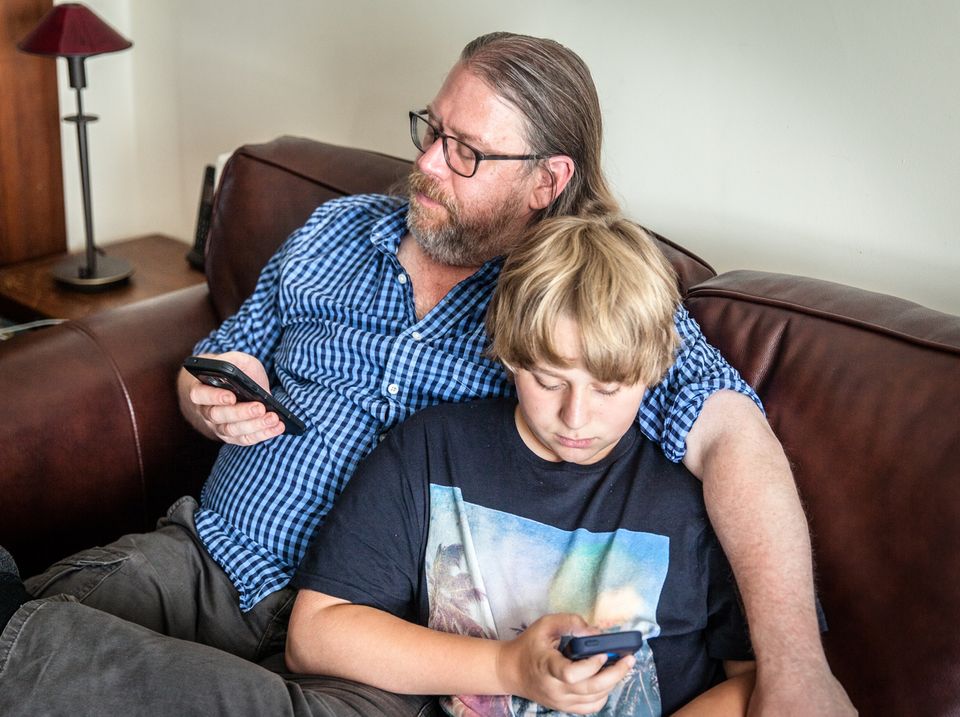 You can practically hear your almost-13-year-old rolling her eyes at a lecture about safely using social media. And you can certainly see how much she'd love to send mocking Snapchats her friends' way.
Parents of kids eager to hop on Instagram might dread conversations about social-media safety. But it's "one of the most important things you can talk about with your kids," says Alan Simpson, vice president of policy and communications at family Internet safety group iKeepSafe, as they "look to you for the right messages about what's appropriate and how to take the right steps."
"Remember that you're trying to prepare your kids to be smart and independent, and sometimes training wheels—like having access to their account—[are] necessary." — Alan Simpson, vice president of policy and communications, iKeepSafe
American kids today are typically exposed at birth, by their parents, to social apps such as Facebook and Twitter. By age 7, they might know how to navigate a smartphone better than their parents—and almost certainly better than their grandparents. By age 10, they might be avid users of FaceTime and other messaging apps. They might also be avid mobile gamers. And by age 14, according to a 2015 report from the Pew Research Center, more than two-thirds are actively exploring social-media apps ranging from WhatsApp to Vine.
The conversations you hold with your children about social-media safety, advises Augusta Nissly, program coordinator at the Family Online Safety Institute, should resemble many others.
"You talk with with your child about being safe at the park and at the movies," she says. "The online space is no different."
Here are five ways to develop an open and productive dialogue with your social-media newbie around social-media safety.
Get in the trenches
"If you're not clear what the latest app does," Simpson advises, figure it out. "You're an important mentor and guide to your children about what to do and [what] not to do."
Think about timing
Most social-media platforms, including Facebook and Instagram, require users to be at least 13 years old. Keep your children off the platform until that age, then gauge their readiness, Nissly advises.
"If they're not yet 13, they shouldn't be on the site. But just because they're 13 doesn't mean they're ready for everything—you need to make those calls," she says.
Consider their levels of independence and maturity, Simpson adds. "Every family is different, and you need to decide what's best."
Set parameters, and stay involved
Set limits and conditions surrounding your child's social-media use, Simpson advises. These might include which sites they can use, when and how much time they can spend on them, who has direct access to the account, and whether you are present as a "friend" or follower.
"Teens want privacy online, but mostly from their parents. That's scary for parents," he says. "Remember that you're trying to prepare your kids to be smart and independent, and sometimes training wheels—like having access to their account—[are] necessary. Either way, convey a message of respect. They want to know that you trust them."
Navigating this part of the conversation can be tricky, Nissly and Simpson say. Discuss ways you're willing to help your children become more independent with their social-media usage over time, but emphasize why your initial oversight is important.
"Let them know that you're not [requesting their password or following them] to stalk them, and that you won't comment on everything they or their friends post," Nissly adds. "You won't be a constant presence, but you want to be there to help and guide them when they need it."
Discuss settings and implications
Help your teen set their privacy and security settings, explaining what they do and why they're important, Simpson advises.
"This is a great time to talk to your kids about protecting their data, when and what to share, and what the settings mean," he says. "Posting something that your friends might find hilarious might not go over well with Grandma."
Because kids learn by example, it's also important to practice what you preach, Nissly adds. "If you discuss turning off location settings when they publish posts, make sure you do the same. If you want your teen to unplug at bedtime, you need to do that too," she says. "That's one of the hardest processes for parents—following your own rules."
While discussions around privacy and security shouldn't be taken lightly, be careful not to frame social media in an entirely negative light, Simpson adds.
"Communicate the upsides—how it helps you keep in touch with grandparents and friends you meet at camp—but balance it with the downsides, like giving away your personal information and other risks," he says. "Teens think safety is uncool, and that's when they turn a deaf ear. Frame your conversation about being savvy instead. That's more productive."
Forgive mistakes
How you react when your teen makes a mistake on social media is key to keeping lines of communication open, Simpson says. Focus on a motivating message—such as treating others as you'd want to be treated—rather than on one he'll ignore, such as culpability.
"Respect is really important if they make a mistake," he says. "It happens, and from it can come valuable learning opportunities."
Enjoying these posts? Subscribe for more