6 secure gifts for the holidays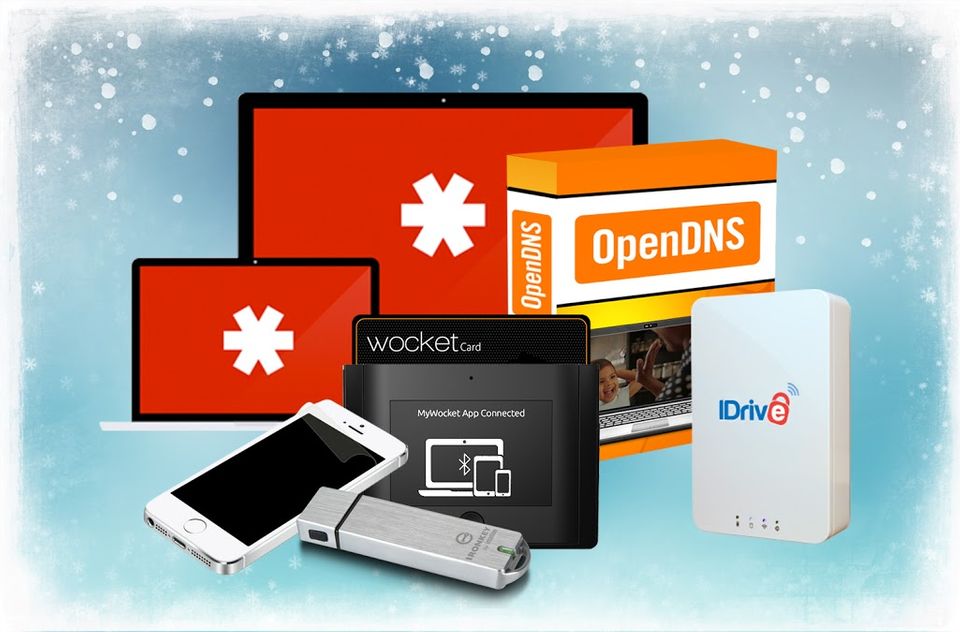 During a season in which data breaches are all too common, and kids' toys are hackable, giving the gift of security and privacy may be more meaningful than ever.
"A lot of this year's hot-ticket tech items­—everything from wearable fitness trackers to smartwatches, action cameras, and drones—are appealing, not just to you and me, but to cybercriminals as well," said Gary Davis, chief consumer security evangelist at McAfee.
Instead, consider gadgets and gear that protect friends and family against cybercriminals, malware, and phishing attacks, said Robert Beggs, CEO of information security services provider DigitalDefence.
"You want to make sure that what you're purchasing is incredibly simple to use," he said. "Avoid products that involve additional downloads or add-ons because that starts to build complexity back in."
Be wary of compatibility too, Beggs advised. Before purchasing any software, make sure that it's suitable for the system on which it will be installed. "If you're purchasing a computer program, you usually can't return it, once you buy it," he said. "Particularly around [the holidays], you'll find a lot of stuff that looks enticing, but might not be certified to run on something like Windows 10."
From gadgets that encrypt to software that secures personal information and data, here are six gift ideas for the vulnerable person in your life.
3M's variety of privacy filters protect desktops, laptops, tablets, and mobile devices from peering eyes and visual hackers.
The filters attach to your device's screen like a screen protector. Using patented technology, they obscure screen viewing from side angles. All of 3M's privacy filters are detachable and reusable for times you need the extra protection—or just think you might.
Also to check out: BodyGuardz, Tech Armor, and Zagg Invisible Shield.
3M Privacy Filters: $15 to $80, available at Amazon.com and other retailers.
Online backup and syncing service iDrive safeguards your files in the cloud. It offers three tiers of storage: Basic, Personal, and Business. All plans include unlimited devices to back up, including external drives.
In addition to its core backup and sync capabilities, iDrive lets users schedule ongoing backups. It auto-stores important files every 10 minutes, and it backs up social data such as Instagram photo uploads. All data is encrypted and accessible only by the account owner, via a private key created during signup. iDrive does not store its users' private encryption keys on its servers.
Also to check out: SOS Online Backup, Carbonite, and MozyHome.
iDrive: Free (5GB) to $2,999.50 (12TB) per year for annual plans, available at iDrive's site.
This biometric flash drive is validated to Level 3 of the FIPS 140-2 government security guideline—meaning it's one secure device. Unlock the drive by swiping your finger across it, then plug it into your device's USB port.
Imation's Ironkey F200 uses AES 256-bit encryption at the hardware level and Cipher Block Chaining mode, which is activated when the device is in use. The high-level security doesn't come cheap, though: prices range from $189 for 8GB to $649 for 64GB.
For a budget-friendly alternative, consider the Ironkey D80. This flash drive uses the same AES 256-bit encryption and is password-protected. If it's lost or stolen, the drive automatically reformats itself after six failed login attempts.
Also to check out: LaCie XtremKey USB 3.0, Lexar JumpDrive M10; and the SanDisk Extreme 3.0.
Ironkey F200 Flash Drive: From $37 for 4GB to $116 for 32GB, available at Imation's site or from other retailers.
Forgetting and resetting passwords is an annoying reality for many. LastPass aims to solve that. Available in both freemium and premium models, the password manager securely stores all your passwords, usernames, credit card information, and other form-filling data that you ask it to remember.
While the free version of LastPass limits its sync capabilities to your desktop, LastPass Premium allows unlimited sync on unlimited devices. Premium accounts also include multifactor authentication choices, a USB thumb drive running LastPass (for workplaces with locked-down computers), and a shared family folder that lets you manage joint accounts.
Also to check out: Dashlane, Sticky Password, and RoboForm.
LastPass: Free to $12 per year, available at LastPass' site.
OpenDNS provides free and premium services for users who want more protection against malware, phishing, and targeted online attacks, plus content filtering.
The company's free products, OpenDNS FamilyShield and OpenDNS Home, offer parental controls, as well as fraud and phishing protection. While OpenDNS FamilyShield is preconfigured to block pornographic content, OpenDNS Home lets users customize filtering and security.
The company's premium product, OpenDNS VIP Home, adds usage stats and the ability to restrict Internet access to specific whitelisted domains.
Also to check out: Qustodio, Net Nanny, and McAfee Family Protection.
OpenDNS: Free to $19.95 per year, available at OpenDNS' site.
NXT-ID's Wocket is a pocket-size vault that securely stores electronic versions of your credit cards, loyalty cards, membership cards, and more.
Wocket is ready to use after entering the cards you want it to store, either manually or using its built-in scanner. To make a purchase, unlock the device using a pin or via voice recognition, then select from the screen the card you want to use. Wocket will write that card's information onto the WocketCard for a one-time use, boosting the security of your purchase.
Also check out: Coin, Plastc, and Swyp.
Wocket: $179, available at Wocket's site.
Enjoying these posts? Subscribe for more