How to balance safety and privacy with a car tracker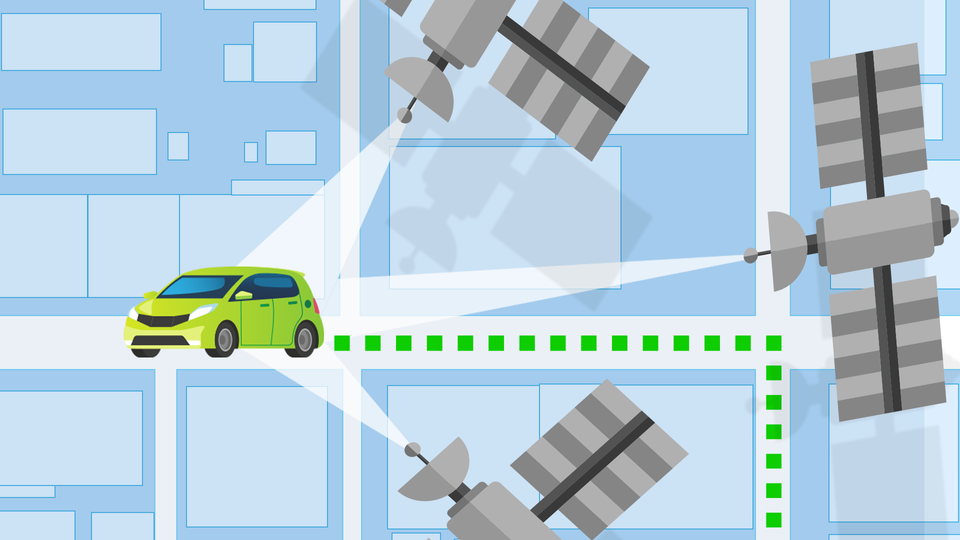 Last month, North Carolina teenager Macy Smith credited a GPS tracker on her phone, along with a Bible within reach, for her survival after she lost control of her car during a heavy rainstorm. It hydroplaned, flipped, and slid down a ravine, pinning her below it. Hours later, her family used the Find My Friends app to pinpoint her location.
Smith, who suffered neck and nerve injuries from the crash, was lucky that her phone, which she couldn't reach, had battery power, cellular connectivity, and an active location-tracking app that she'd shared with loved ones. For parents terrified about what might happen when their fledgling drivers hit the road without them, an always-on car-tracking device can help alleviate a fear or two.
By tracking details like location, speed, and sudden braking, these devices can help people keep tabs on where and how their cars are being driven, not to mention whether their teens are obeying curfews. On the other hand, privacy experts caution that car trackers can be used to stalk, intimidate, or otherwise invade drivers' privacy.
---
---
READ MORE ON CAR HACKING
This hack could take control of your Ford
Hackable software in the driver's seat: The current state of connected car security
How Uber drives a fine line on security and privacy
How to protect what your car knows about you (opinion)
Uber, self-driving cars, and the high cost of connectivity (opinion)
When taking Uber or Lyft, is your ride-sharing data buckled up?
---
"The No. 1 thing people should remember is that once data exists, it can be a challenge to keep it secure and private," says Nate Wessler, staff attorney with the ACLU Project on Speech, Privacy, and Technology. "A long-term record over time can give away information about which doctors you visit, which people you spend time with, people's love lives, and more."
This data might be valuable to a number of parties: data brokers and marketers, which may gain access to it through corporate data-sharing partnerships; law enforcement agencies, which often (but not always) need to obtain a search warrant to access it; and hackers, who find ways to access it through unsecured cloud storage or data leaks.
"Individual location data is incredibly valuable to companies who are trying to serve up ads and do marketing analysis," Wessler says. "People should not have their location data leaked in that way without express consent and full knowledge of what's happening. Location data is part of a huge gray market of data brokers who are packaging it and reselling it to end users."
Before purchasing a GPS tracker, Wessler advises gathering some data yourself. Read the company's privacy policy for information on whether it resells or shares user data with third parties, how long it retains data, and what measures of security and privacy it has in place.
Another important consideration, he says, is the legality of installing such devices. According to a report from the National Conference of State Legislatures, it's legal for individuals to install GPS tracking devices on vehicles they own, either as a private citizen or as an employer.
It's generally illegal to install GPS-tracking devices on vehicles you don't own, though you may be able to legally install one on the car of someone (like a child or an incapacitated adult) for whom you are a legal guardian.
The privacy and security concerns of these devices are not unlike those associated with mobile devices and vehicles' built-in GPS capabilities, Wessler notes.
"Unless you turn these settings off, the phone you carry with you in the car is already tracking your location," he says. "Modern cars have GPS-enabled systems with mapping functions. Think twice before purchasing other devices that do the same thing—but know that there are things you can do to help ensure that you data is safe."
If you're in the market for a car tracker, you might feel a sense of relief hearing that some of today's best-selling devices (listed below) have a privacy policy that indicates safe data practices, including detailing security tools and disclosing how they use customer data. That said, the policies often prioritize corporate flexibility over technical specificity, says Kendra Albert, clinical instructional fellow at Harvard Law School's Cyberlaw Clinic.
"Companies that have reasonably good practices for notifying consumers of privacy policy or terms of service changes tend not to make them incredibly specific," Albert says. "Vagueness can provide companies flexibility to do legitimate things with data that consumers don't need details on, such as switching from [Amazon Web Services] to another provider."
This device tracks vehicle location in real time and transmits data every minute to your computer, tablet, or phone. You may also choose to receive alerts on real-time events such as speeding, low device battery, connectivity, and geofences for 100 customizable zones. Tracking plans begin at $25 for one month, with discounts for additional months. Read its privacy policy, which begins at No. 17, here.
Albert says this privacy policy appears to cover only use of its website. She suspects that the company may have a separate policy for its devices. Its parent company, Orbiflex, did not immediately respond to a request for comment.
LandAirSea's waterproof device is about the size of a roll of Scotch tape, it says, and is powered by a rechargeable battery. Features include real-time tracking using Google Maps via the Web or mobile app; text and email alerts; historical playback; and geofencing. Data plans begin at $25 per month, depending on your desired location reporting rate. Read its privacy policy here.
Designed particularly to track teen drivers, this device shows location via Google Maps in real time, rates driver performance, monitors safe driving behaviors, and sends alerts for speeding. Users can receive a daily report card that summarizes safe or unsafe driving behaviors. They can also set up alerts for harsh braking, device tampering, high speeds, and curfew violations. MOTOsafety supports geofencing. Tracking plans are $20 per month. Read its privacy policy here.
Spytec's 2-inch device tracks and maps vehicles via Google Maps as often every 5 to 60 seconds, depending on the plan you choose. Users can access details remotely via the Web or the app, and receive location and speed alerts by email and text message. The device includes geofencing functionality and one year of historical data. Tracking plans begin at $25 per month. Read its privacy policy here.
This device tracks your car's real-time location and logs trip histories, driving habits, vehicle condition, fuel emissions performance, maintenance reminders, and more. It transfers this data every three minutes from its servers to your mobile app, desktop, smartwatch, or digital home assistant. Additional features include geofencing, alerts about unsafe driving, and driver evaluations. There are no monthly charges, though upgrades are available. Read its privacy policy here.
Enjoying these posts? Subscribe for more