Trump's tariffs just about killed DefCon #badgelife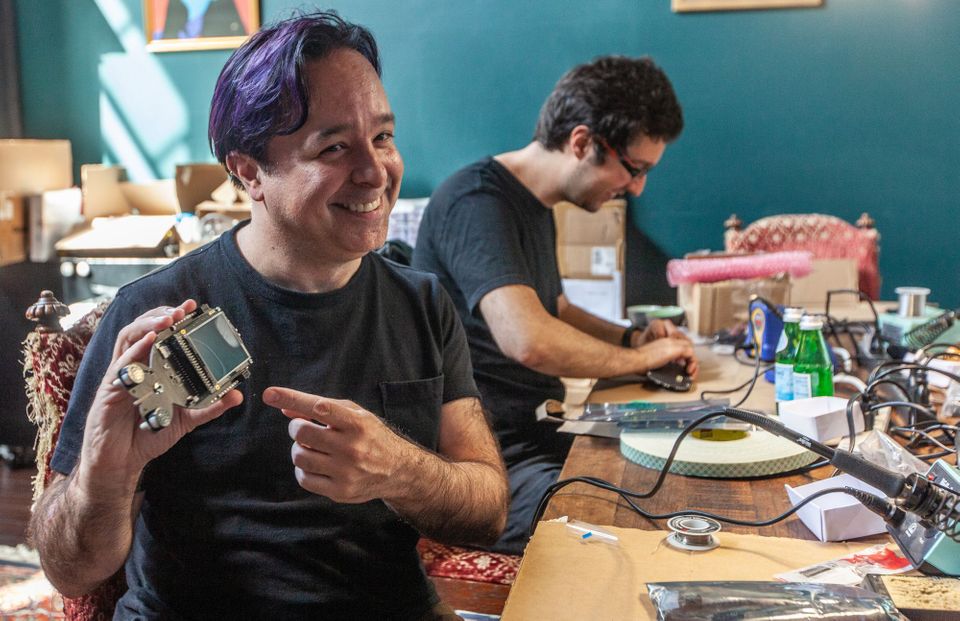 LAS VEGAS—Politics and hackers always make for strange bedfellows, but this year's DefCon badge hackers are getting an unexpected lesson in trade economics—thanks to the Trump administration's tariffs on Chinese electronics.
After months of preparation, self-designated teams of hackers collectively referred to as Badge Life, or #badgelife, are debuting their unofficial electronic conference badges here this week at the annual DefCon conference, the world's largest hacking conference.
Badge Life is a tradition stretching back to DefCon 14 in 2006, when Joe "Kingpin" Grand created electronic badges for the conference intended for hackers to build on. Ten years later, privacy attorney Whitney Merrill organized badge hackers into an official group. It gives hackers an opportunity to show off their skills at designing embedded hacking puzzles and games, says John Adams, whose three-person team has built a bomb-theme badge.
This slideshow requires JavaScript.
"In the last 5 to 10 years, we've seen the rise of desktop manufacturing," adds Adams, who compares the trend to its 1980s and 1990s counterpart in personal computer-driven home desktop publishing.
Adams and his San Francisco-based Team Ides compatriots, game designer Egan Hirvela and firmware engineer Bill Paul, built a popular player-versus-player Roman gladiator fighting game for DefCon 25 in 2017 using what Adams describes as the "huge library" of standardized, open-source parts available to home manufacturers.
"If you can design it, you can make it," he says. "Badge Life feels like a Manhattan Project, where you spend all year building something."
Team Ides' new fighting game features a ship-versus-ship battle at sea, accompanied by hidden hardware- and software-hacking puzzles, as well as Easter eggs such as classic interactive fiction games (like Zork) buried in the code. Also hidden from its users at DefCon: a real-life trade war with China almost killed the badges altogether.
The desktop manufacturers of #badgelife rely on a variety of suppliers. While many use Texas-based manufacturer MacroFab to assemble the badges, most of the components come from China, and some have to cross international borders multiple times before assembly.
Due to the trade war President Donald Trump levied against China in January 2018 and continues to escalate, Adams says Team Ides had to pay an unexpected tariff of 30 cents to 40 cents per battery shipped, an additional 15 percent to 20 percent more than Chinese vendor PKCell's list cost of $2 per battery. That may not sound like much, but Team Ides spent $47,000 out of pocket for 500 badges. The battery tariff almost turned the badge development, which is backed by Kickstarter crowdfunding, in-person sales at DefCon, and corporate sponsorship, from a barely more than a break-even endeavor to a project in the red, Adams says.
DefCon organizers say their manufacturing process for the official conference badge, which numbers in the tens of thousands, was not impacted by the Trump tariffs.
"Adding a $1 part to a badge can mean $500 or $1,000" in additional final costs, says badge maker "Zapp," a hacker who has been building badges since 2015. (Through last year, he developed the "Bender" badge, so-called because the circuit board was shaped like the head of the cynical, homicidal Futurama robot. Bender has fallen afoul of copyright claims; Zapp has developed a new circuit board design for this year's badge.)
Each of the four #badgelife teams we spoke with for this story said it couldn't anticipate which badge components would be slapped with an extra tariff—or held up in Customs during the shipping process, delaying production timelines and putting their razor-thin margins at risk.
George Louthan, who designs the badge for the DefCon LGBTQ+ social group QueerCon, says the tariffs have taken a big chunk out of the group's fundraising efforts. "The threat of unpredictability in moving goods across the border, to us, is a bigger threat than import duties,"  he says. "It's made it much more expensive to do this."
But in developing QueerCon's badge this year, Louthan found some intriguing familiarity in the complexity of the tariff codes.
"If you read the descriptions for various HTS [Harmonized Tariff Schedule] codes, they read like a Choose Your [Own] Adventure decision tree," he says. "They read like code. I don't know if it's dangerous for the administration to suddenly educate hackers about trade policy, but it's something that hackers might take to more than they expect."
The impact of Trump's tariffs has been detrimental to U.S. businesses and consumers, experts say, and the latest round of tariffs, announced on August 1, are expected to intensify the situation. A May 2019 analysis by CNBC concluded that the tariffs in total amount to one of the largest tax increases on U.S. consumers since 1993, costing the average U.S. household $831 per year.
Testimony by tech company representatives in Washington, D.C., given in May to the U.S. Trade Representative, portrays a uniformly negative reaction to the tariffs.
"The imposition and increasing of tariffs both in round three and now in round four has created significant business uncertainty for iRobot, as a small cap publicly traded company. As a result, iRobot will not be able to increase its research and development spending, preventing it from hiring more well-paid, highly skilled American workers," testified Colin Angle, co-founder of Massachusetts-based iRobot.
"Element is the only remaining American TV factory. We're doing exactly what the [Trump] administration is asking of American companies. We alone are fighting to re-shore and grow an industry that left America decades ago. Yet, if the administration proceeds to implement a List 4 tariff on LCD panels and mainboards, Element will be forced to permanently shut down its U.S. factory and move production offshore," wrote David Baer, general counsel for Element Electronics.
In real dollars, think of the impact like this: If Apple didn't have so much cash on hand, JPMorgan Chase estimates that the company would have to raise iPhone prices by more than $100 to offset the tariffs. And it still may raise prices on its phones due to the tariffs.
"If China can't sell to America, it can sell to South Korea and do a middle man without the tariffs involved. The longer the trade war lasts, the more these intermediaries will grow, like veins after a heart attack," says Craig Medlen, professor of economics at Silicon Valley's Menlo College.
"If we were able to replace everything from China in the U.S., I'd have no problem buying it here," Adams notes, though he acknowledges that building that infrastructure is years away—if at all. "Tacking on any more tariffs would have killed us."
And at least in the short term, manufacturers of all sizes can bet on one thing: More tariffs are due in September.
Update on August 8 at 8:35 a.m. PDT: Added comment from DefCon.
Enjoying these posts? Subscribe for more