On gun owner registry, privacy and safety tenets at odds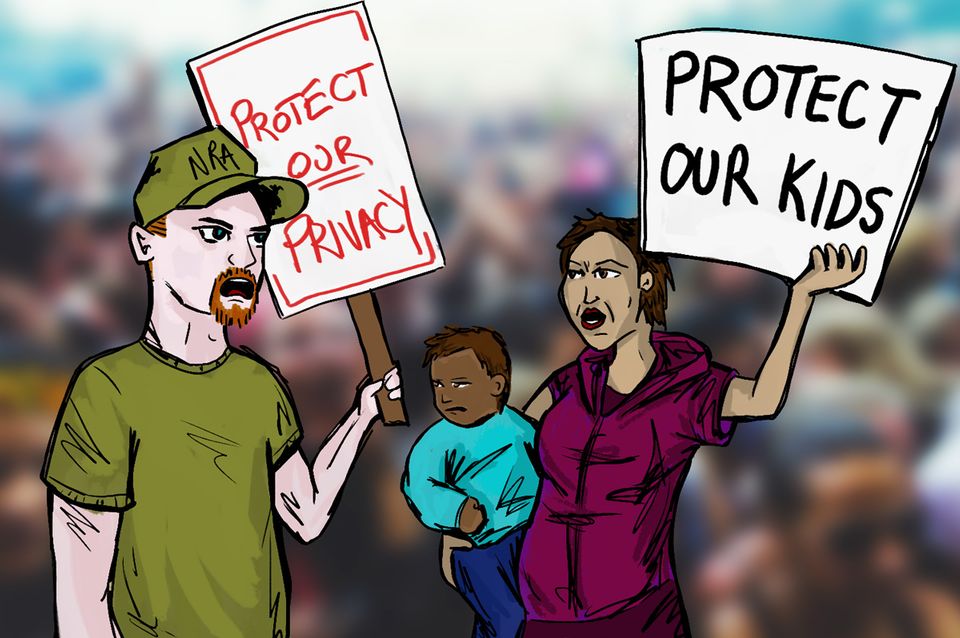 After the deadliest mass shooting in the United States, where a 64-year-old gunman killed at least 58 people and wounded at least 527 others, many lawmakers and citizens will again ask about how to prevent future tragedies—and whether technology has a role to play.
With a U.S. political climate that favors easy access to guns, there are no simple answers. Technology solutions such as smart guns and smart trigger locks have several benefits, but they wouldn't prevent the owner of legally purchased guns—as is presumed to be the case in the Las Vegas attack—from using them in a mass shooting.
One potential idea is a national database of gun ownership, with proponents suggesting that a public list of gun owners could help police track weapons used in crimes. Under current U.S. law, the federal government cannot track gun ownership; the U.S. Firearm Owners' Protection Act of 1986 prohibits the Bureau of Alcohol, Tobacco and Firearms (ATF) from keeping a registry directly linking most firearms to their owners.
In June, the Pew Research Center found 71 percent of adults responding to its survey in support of a federal database to track gun sales.
But supporters argue that a database linking guns to owners could potentially alert law enforcement agencies to a person amassing an arsenal of weapons, as was the case with Las Vegas shooter Stephen Paddock.
Police reportedly found 23 guns in the 32nd-floor hotel room from which Paddock shot attendees of a country music festival across the street. All told, 47 guns were recovered between his hotel room, his primary residence in Mesquite, Nev., and a second home he owned in Reno, according to the FBI.
There hasn't been a serious national effort to create a national gun registry in years, with gun control groups like the Brady Campaign to Prevent Gun Violence and the Coalition to Stop Gun Violence not listing it as one of their priorities. A handful of Democratic lawmakers have occasionally floated the idea of a registry.
The National Rifle Association and other gun rights groups argue that such a list would invade gun owners' privacy and potentially even lead to mass seizure of legally purchased weapons. The NRA also resisted efforts by former President Barack Obama to create new background checks for gun purchases, suggesting incorrectly that they would lead to a database of gun owners.
It doesn't appear that a gun database would have stopped Paddock, says Jon Stokes, a gun owner, and editor-in-chief of hunting and fishing blog AllOutdoor.com. "Law-abiding owners don't want the state telling them how many guns of what kind per year they can by, because…it's not clear how this would make anyone safer," Stokes says. "If someone is a law-abiding citizen who passes background checks and complies with a registration regime, then what is the point of dictating to them how many guns and what kind they can have?"
While registration databases might make it easier for the government to limit the number of guns any one person can own, most mass shooters use only a couple of weapons, Stokes adds.
"It's not clear how these limits would prevent mass tragedies," he says. "Sure, the [Las Vegas] shooter had a large gun stockpile, but he only appears to have used one or two of them. This is typical of mass shooters."
Other critics say ownership of multiple guns in itself is not a crime. A database would be an "excuse to further bother non-murdering gun owners, who comprise over 99.9999 percent of gun owners," says Arvin Vohra, vice chairman of the Libertarian Party. "Such a list implies…having law enforcement invade the homes of those with 10 guns. Having a gun collection suddenly becomes probable cause."
Many traditional privacy groups like the American Civil Liberties Union have steered clear of any debate over gun ownership privacy. It's unclear whether that's because of the politics of gun ownership, the effectiveness of the NRA in repelling efforts to create a gun registry, or the general lack of the idea to gain traction.
The ACLU declined to comment.
One place bucking the trend against gun databases is Hawaii, which passed a series of gun control laws in 2016, including a gun ownership registry. The Hawaii registry uses an FBI service that notifies police any time a gun owner from the state is arrested for a crime anywhere across the United States.
The law will allow the state's police to evaluate whether a gun owner can still legally possess firearms, according to Democratic Gov. David Ige.
"This is about our community's safety and responsible gun ownership," he said in a statement after signing the bill. "This system will better enable our law enforcement agencies to ensure the security of all Hawai'i residents and visitors to our islands."
The NRA ripped the law in a tweet: "exercising constitutional rights in #Hawaii now gets you entered into a federal watchlist, er, database," the gun rights group wrote.
But a similar law in Nevada would likely not have stopped Paddock, who had no criminal record.
One of the biggest arguments for a gun registration database is to track guns used in crimes, says Stokes, a former tech journalist. "In other words, it's not about prevention but about forensics after the fact," he says.
Past efforts to force gun owners to register them in a state database, including the New York Secure Ammunition and Firearms Enforcement Act of 2013, have been unsuccessful, Stokes says.
"Gun owners who have the country's 300 million unregistered guns will simply not register them, period," he says, "and since the state doesn't know they have unregistered guns, the state can't enforce this requirement as a practical matter."
Enjoying these posts? Subscribe for more