Web's most annoying ads no longer welcome in Chrome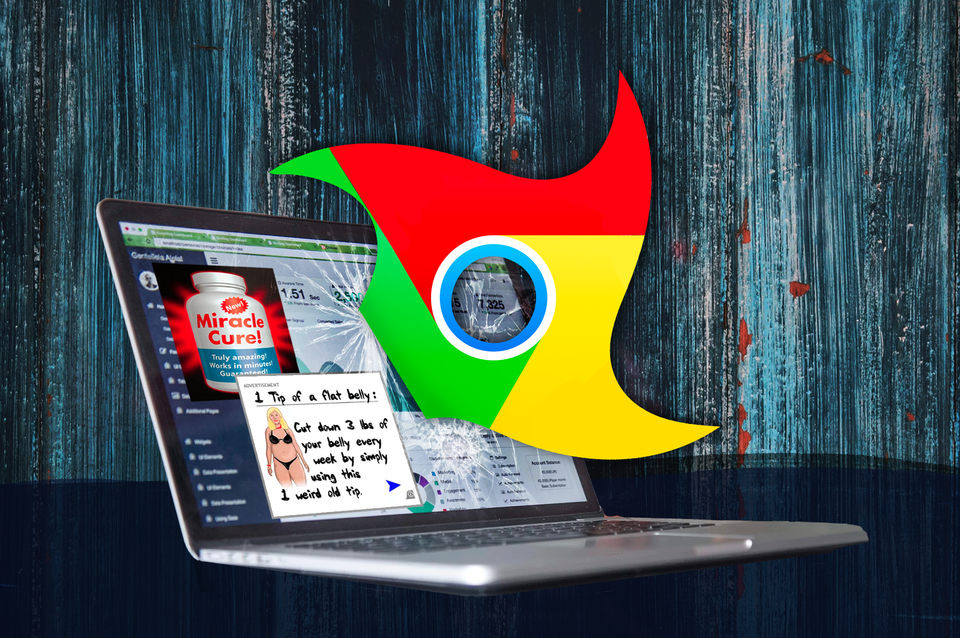 Search may be what Google is known for, but advertising has long been how the company makes billions of dollars. So it may strike some consumers as odd that Google just introduced a new feature in its Chrome browser that blocks by default certain types of ads.
Chrome's new ad-filtering technology, released Thursday, removes ads from sites that do not adhere to the guidelines of its Better Ad Standards group. Based on surveys of more than 40,000 Internet users in North America and Europe, Chrome will now block several kinds of ads without requiring user interaction or customization with an ad blocker. These include prestitial ads, which are full-page ads that prevent consumers from seeing a site's content, and flashing animated ads.
Chrome engineering manager Chris Bentzel wrote in a blog post that of the sites that had failed to meet the new standards as of June 2017, when Google first announced its plans to implement the changes, 42 percent now pass muster.
---
---
READ MORE ON BROWSER SECURITY
Slowly but surely, browsers are becoming more secure
As browsers accelerate, innovation outpaces security
Web browser security through the years (timeline)
6 browser add-ons to protect you on the Web
Change these 5 settings to improve your browser security
Is Brave the ad-scrubbing superhero the Web needs?
---
Independent security researcher Dan Kaminsky says this software update will benefit the entire Web.
"Google's very existence depends on the Web not being terrible," says Kaminsky, whose recent research has largely focused on how to make the Web safer by stopping clickjacking, a type of attack that hides a malicious link under content that appears legitimate. "Having the people who sell most of the ads outright declaring that the ads must not be terrible is something we want. It's behavior we should encourage, at least if we want a Web of any quality."
Ad quality has been a contentious issue between those charged with improving security and revenue for years. The update to Chrome, which holds more than 55 percent of the world's browser market share, could signal a successful path forward where other initiatives to reform ads have been stymied.
Many consumers over the years have responded to ads they see as intrusive by installing ad-blocking browser add-ons, which cut out ads entirely from websites. While that was good for consumers in the short term, it also forced site publishers, developers, and content producers to scramble for alternatives. Some retaliated by blocking browsers using ad blockers from accessing their sites. Others looked to engineering solutions, such as using browser technology to replace "bad" ads with less annoying, safer ones.
Representatives of Microsoft, which develops Edge and Internet Explorer, and Mozilla, which develops Firefox, told The Parallax in separate emailed statements that the Chrome competitors have no plans to adopt the Better Ad Standard guidelines at this time but will be monitoring Chrome's success with the change.
Apple, developer of the Safari browser, did not return a request for comment.
The Better Ad Standards guidelines that Chrome now enforces do nothing to stop cryptojacking, where benign-looking ads are surreptitiously used to take over a computer's hardware to mine cryptocurrency. They also don't address clickjacking or other forms of malvertising, malicious software attacks delivered through ads.
And not everybody thinks that Google should be regulating Web ads. The change will strengthen Google's influential position over advertisers, as they now have to meet the new guidelines, or face getting blocked in Chrome, says Avivah Litan, vice president and distinguished analyst at Gartner Research. She worries that what makes for a better browsing experience in the short term decreases consumer options in the long term.
"This particular move just gives Google more control. Consumers are being increasingly manipulated by the browsing experience," she says. "It's never good to be addicted and manipulated."
Nevertheless, says Tomas Puig, a longtime Silicon Valley marketing executive, less annoying is still better for consumers and marketers alike.
"Nobody wants to buy an ad that's ineffective," Puig says. "I'm not a big fan of ads that piss the consumer off, and you're not going to create good brand equity if you're annoying the consumer."
And even though enforcing the Better Ad Standards guidelines won't stop the most dangerous ads, Kaminsky  says it still is poised to improve Web security by helping keep consumers using the Web. He likens the move to the adoption of "safe browsing" lists, now used by all major browsers, which block users from reaching sites identified as unsafe.
"This is something users clearly want because ad blockers are incredibly popular," he says. "What Chrome is doing is saying, 'Let's make the experience less awful.'"
Enjoying these posts? Subscribe for more