WikiLeaks questions remain after London arrest of 'houseguest from hell'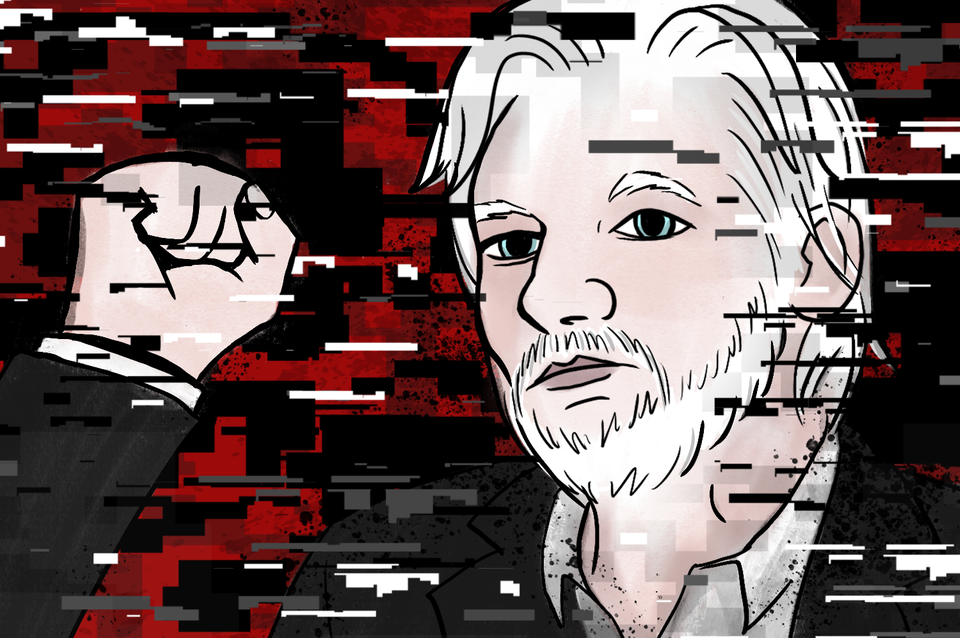 Seven years after WikiLeaks founder Julian Assange took refuge from sexual-assault charges at the Ecuadorian Embassy in London, Ecuador revoked his asylum Thursday. Immediately following a request to extradite him to the United States, the London Metropolitan Police entered the embassy and arrested him.
While Assange, 47, remains in British custody, he faces charges on both sides of the Atlantic. The U.S. District Court for the Eastern District of Virginia unsealed an indictment from March 6, 2018, on Thursday morning, pulling back part of the curtain concealing charges against Assange.
According to a statement by the Department of Justice, Assange has been charged under the Computer Fraud and Abuse Act, the United States' preeminent law against computer hacking. The lone count is for attempting to help former intelligence analyst Chelsea Manning covertly access the Secret Internet Protocol Router Network in March 2010. SIPRNet is the U.S. Department of Defense's classified, private Internet.
---
---
READ MORE ON WIKILEAKS
WikiLeaks' CIA 'Vault7' dump could put consumers at risk
Adrián Lamo: Touched by greatness, mired in tragedy
Mueller's indictment of election hackers a cybersecurity 'wake-up call'
From 'treason' to 'criminal,' experts decry Trump's call for Russia hacks
When hackers target a conference code of conduct
---
Before Manning was convicted of leaking government secrets in 2013, she had delivered to Assange and WikiLeaks over the course of several years 750,000 government documents, including a video depicting the deaths of two Reuters journalists and an unclear number of Iraqi civilians by an Apache helicopter air strike on July 12, 2007.
There is no mention in the indictment of more recent alleged activity by WikiLeaks, including publishing hacked Democratic Party emails Russia had handed the organization during the U.S. presidential campaign of 2016, or publishing confidential CIA hacking tools in 2017.
Assange also faces up to one year of prison in England for evading bail in 2012, when he entered the Ecuadorian embassy seeking asylum from charges of sexual misconduct and rape in Sweden. Assange has denied the allegations, and Swedish prosecutors dropped their investigations into rape allegations in May 2017, but they are now considering reopening a case whose statute of limitations has not yet expired, as requested by an attorney for the alleged rape victim.
Following his arrest on Thursday, Assange was found guilty of breach of bail and will face extradition charges to the United States on May 2.
"Assange's behavior has caused other governments to look at hackers. He was his own worst enemy, for sure."—Stewart Baker, former general counsel, National Security Agency
Ecuador's president, Lenin Moreno, described Assange to Bloomberg News as "bad-mannered" and a "spoiled brat" who allegedly assaulted embassy guards.
Stewart Baker, former general counsel for the National Security Agency and the first assistant secretary for policy at the Department of Homeland Security, says Assange's antics as "the houseguest from hell" could encourage government agencies around the world to take more punitive actions against hackers who face criminal charges.
"Assange's behavior has caused other governments to look at hackers. He was his own worst enemy, for sure," Baker told The Parallax. "He would not be in this fix, if he was not so intent on being a burr under the saddle of everybody who could influence his future, other than the Russians—who he's learned not to piss off."
Looking beyond Assange's embassy eviction and arrest, security experts worry that the U.S. Justice Department's proceedings against him could scare would-be whistleblowers off from leaking to journalists hacked documents of widespread public interest—or cloud the nature of his relationships during the run-up to the 2016 election with Russia and associates of then-presidential candidate Donald Trump.
Media observers who understand the nuances of Digital Age whistle-blowing techniques, such as cracking passwords and sharing chat logs, fear that the Justice Department's case against Assange could empower a presidential administration that has labeled the media an "enemy of the people" to more aggressively pursue charges against reporters who publish stories based on leaked documents.
Washington Post columnist Paul Waldman commented on Thursday that prosecuting Assange could lead to criminalizing journalism.
"Whatever you think of WikiLeaks, if we criminalize receiving classified information, some of the most important works of journalism in American history would be transformed into crimes, and every reporter who works on national security would be a potential criminal," he wrote. "There's a clear rule journalists follow: If my source stole important documents and gives them to me, I can write about what they contain. What I can't do is break down the door to the government building so he can get inside. That is essentially what Assange is being charged with: conspiring with Chelsea Manning to break into government files."
"The Assange case could send a chilling effect to legitimate sources," agrees Richard Forno, the director of the Graduate Cybersecurity Program at the University of Maryland at Baltimore County. He worries about both the government's prosecution of Assange, and Assange claiming a First Amendment defense as a journalist.
Like Waldman, Forno sees a difference between Assange's alleged actions—attempting to help Manning hide her identity on SIPRNet—and a more common journalistic practice: helping whistleblowers upload documents to a secure, private computer server.
"Just because you're a whistleblower doesn't mean you're a journalist."—Richard Forno, director, Graduate Cybersecurity Program, University of Maryland at Baltimore County
The Wall Street Journal was an early innovator at this, launching SafeHouse, a now-defunct portal that it described as a secure website for sending its reporters "newsworthy contracts, correspondence, emails, financial records, or databases" in the wake of WikiLeaks' early reputation for receiving and publishing confidential government documents.
Even without SafeHouse, or the open-source, more widely used SecureDrop, news organizations continue to publish stories based on leaked documents. Look no further than the documents Edward Snowden leaked to newspapers in 2013 to gauge the importance they can play in shaping public discourse and tech trends.
"Just because you're a whistleblower doesn't mean you're a journalist," Forno says. "WikiLeaks is not in the same league as The Wall Street Journal."
Another concern in the Assange case is that, by arresting him after Special Counsel Robert Mueller's investigation into Russian meddling in the 2016 U.S. elections has come to a close, it will be harder to verify exactly what kind of relationship the WikiLeaks founder had with President Trump's campaign and with the 12 members of Russia's GRU whom Mueller indicted in July 2018 for hacking the emails of Hillary Clinton, the Democratic National Committee, and the Democratic Congressional Campaign Committee in 2016.
Notably, Ecuador's Moreno, as well as other Central and South American leaders, has recently withdrawn a position of support for Assange in an apparent attempt to placate President Trump, who has been threatening to withdraw U.S. support from the region.
Trump now denies having any knowledge about WikiLeaks, a stark contrast to his public enthusiasm for the organization's work during his campaign.
"I really want to know about WikiLeaks' connection to Russia, and nothing in these indictments says anything about that," says Herb Lin, computer security policy expert and research fellow at Stanford University's Center for International Security and Cooperation. "It's important to find out what WikiLeaks' role was in the 2016 election. If his arrest helps, that's good, but none of the indictment points in that direction."
And despite the scheduled extradition hearing on May 2, analysts expect Assange to be able to stay off U.S. soil for some time to come.
"Assange's high-powered legal team has had years to prepare their arguments. And Britain has generally tended to favor accused hackers fighting extradition to America," an Associated Press report noted. Sweden might also submit a new extradition request, which Britain might consider to be more urgent than the U.S. demands, given that the statute of limitations for the rape allegation in Sweden expires in August 2020.
Given that Assange's extradition could take years, Baker believes that this is only the first salvo against the controversial publisher.
"I would not assume that this is the last set of charges that will be brought against him," Baker says.
Enjoying these posts? Subscribe for more